Keynote at the 11th FT Summit & Meetings – Middle East

Ernesto Damiani has been invited to give a keynote at the 11th Financial Technology Summit & Meetings – Middle East in Dubai, the 29th of April 2015.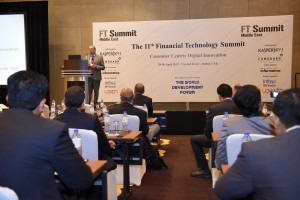 The Financial Technology Summit & Meetings, now in it's 11th edition, is the foremost exclusive, by-invitation only summit dedicated to the CIOs & CxOs of the Banking & Financial sectors in Middle East. Every year the FT Summit attracts the Business & IT decision makers of the top 100 Arab Banks & Financial Institutions from UAE, Saudi Arabia, Kuwait, Qatar, Bahrain, Oman and Egypt to discuss how technology can turn strategic vision into reality. FT Summit brings the latest Business & ICT trends for an in-depth discussion and features the industry thought leaders from Academia, Banking ,Consulting & IT vendors.Leading IT vendors have chosen to sponsor FT Summit like Oracle, EMC, Wipro, BT, CA, Kaspersky, Xerox, Juniper, Cisco, Avaya and Cognizant to name a few.